Did you forget something?
2 min read
I can see the worried look on your face. You've forgotten something, but what is it? Did you turn off the lights before leaving the house this morning? Did you feed the cat?
Or did you simply completely forget to watch the latest amazing TV shows???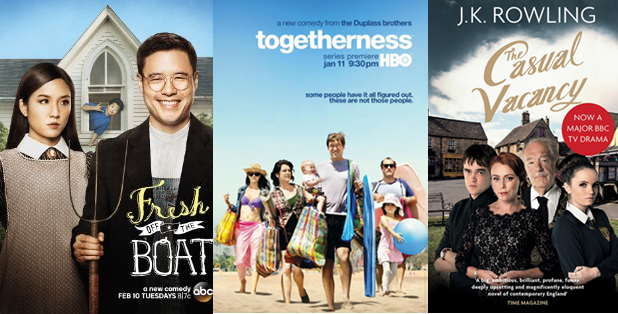 Yep, that's it. 2015 has only just started, and you've missed out on these new series: shame on you :-)! Thank god I'm here to fill you in:
 Togetherness: Actually, this one was the hype of January, so you have no excuse. A simple, touching, funny "dramatic comedy", well-written by the Duplass brothers. The actors are superb (Steve Zissis, Amanda Peet, Mark Duplass, Melany Lynskey), the storylines are "real": this show is a gem. Can't recommend it enough!
Catch up with the first episodes here.
Fresh off the boat: A real-life comedy about Chinese immigrants opening a cow-boy restaurant in Florida….. I was dubious at first but it's actually a very funny and witty show, and the critics agree with me.
It's nice to see some TV diversity  well done, without the clichés. If you're a fan of Modern Family, you'll like "Fresh off the boat": watch it now.
 The Casual Vacancy: Back in 2012, Harry Potter's mama (JK Rowling) got bored of witchcraft and published her first "adult novel": The Casual Vacancy. The book has now been adapted to the small screen by the BBC as a 3 part mini-series. The plot: a local council member dies suddenly in the small, fictional town of Pagford, leaving a vacancy in the town council. Chaos ensues as the citizens fight for the spot in the upcoming election.
Reviews have varied from "amazing" to "not so good", so you'll have to watch this realistic portrait of the British nation to make your own opinion!
Don't you feel relieved? Now go download and watch these shows and impress your family with your knowledge!