Best series-inspired apps
2 min read
If you're a real fan of the following TV shows, then you must have these apps installed on your phone!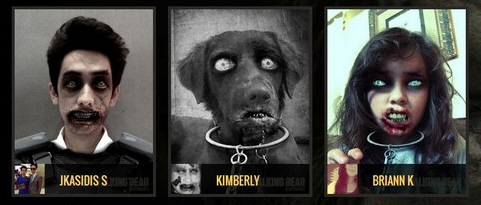 The Walking Dead:  Ever wondered what you would look like as a zombie? Check out "The walking dead dead yourself" app. Take a picture of who you want, then play with the app to add eyes + mouth effects, weapons and filters. Or simply look at yourself in the mirror first thing in the morning and you'll get the same result.  Available on Android  and Itunes!
Game of Thrones:  Hodor special! (Warning, these 3 apps are  for the die-hard fans only…)  We will not be seeing Hodor in GOT season 5,  but that's no reason to forget about him!  Download the Hodor soundboard on Android for instance and "enjoy a fantastic selection of high quality quotes like "Hodor?", "Hodor…", and a crowd favorite "Hodor!?!?""  Don't laugh: the app has been downloaded more than 10,000 times.
A bit more useful (maybe) is Hodor's Magic H ball Android app. Simply ask Hodor any question and you will get the answer you deserve (Hodor!).
Hodor Calculator for Android:  A fully functional calculator with all inputs in the form of Hodor, and of course all outputs are Hodor too! Just don't use it to do your taxes calculation.
I personally would love an app with a countdown to Winter, because we know it's coming, but when exactly?
How I met your mother:  Yes the show is now over, but Barney Stinson's legacy lives on, right? The Playbook goes through all of Barney 's techniques and methods of getting girls, and 'being awesome'. Available on both Android  and Itunes 
Breaking Bad:  Wish you could speak like Jesse Pinkman? Then the YB app is for you ! YB (or Yo B*tch, Jesse's favourite catchphrase) is a fun way to greet and respond to your friends and family (yeah, better not use it for work-related conversations). Apple users can send simple and direct texts like, "Yo, Bitch", or "Bueno, Bitch", all spoken out in Aaron Paul's voice (he actually designed the app himself!).